February 4, 2012 at 4:57 pm
#5528
Scott Mark
Member
RRP wrote:
quote :
toasty wrote:
quote :
… Thing is — it's February. Slow-smoking a brisket doesn't seem likely. Maybe I should roast it in a 225 degree oven for a while.
.
toasty, you need to open that musty coin purse of yours and buy a BGE! It scoffs at cold weather! One time I egged it was a minus -14° and that wasn't wind chill!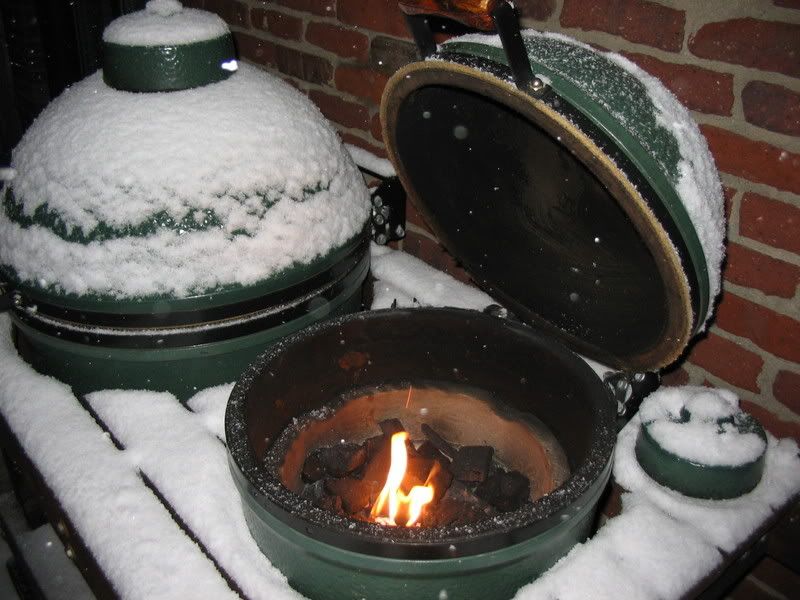 I don't wish to start an argument – but what can a BGE do that a Weber can't? I can get a Weber VERY hot. Or I can keep a Weber at 220 for about as long as I like. I admit that I'm quite tempted by the "damper control" systems that eliminate the watching, but I don't see that as a Weber -vs- BGE issue.
When I was a little younger, I had this semi-romantic fantasy of having a Saturday free and sitting on the patio tending a smoker and a beer, and having company for dinner. For good or bad, my life didn't work out that way, and I ended up trying to keep a smoker "in the zone" while doing all sorts of other things on a Saturday. The dream didn't work out, and I had this (fairly expensive) smoker that didn't really work well on its own.
Through the precise control of the Sous Vide water ovens, I'm starting to lean toward the automated and controlled smoker solution. For a while I was thinking of the Bradley Digital Smoker, but customer feedback indicated that I'd be unhappy with it.
As for opening my musty coin purse – I admit that it often seems to me that the rest of you have a bigger budget than I have. I don't wish to compete – I just wish to do what I can with what I have. I made a decision that I'm going to dry-age my steaks now. And… I think I made one mistake in that area. In terms of yield per dollar – I'm almost convinced (two or three experiments left to finish) that, aged, dollar-wise the sirloin is the best value. ribeye has a huge amount of fat. strip loin has less. But (again – some experiments are unfinished) it seems that sirloin has less fat to trim, and costs less per pound. And, after aging, it's got as much or more flavor, and as good a texture.
The bad news being that there isn't a drybag that's suited for a sirloin. I used a "brisket" bag and wasted half of it. A short loin bag isn't the right shape. But that's the current situation. I think that if enough of us tried the sirloin, we might agree that it's the best sub-primal for the dollar, and I think that UMAi would consider a sized bag for it.
There I go — two or three different topics in a single post. Sorry for that.