May 20, 2013 at 8:18 am
#7036
Jim
Member
Tinknocker,
Welcome to the forum. We think there isn't a reason to use natural hog casings when making dry cured sausage with UMAi Salumi. You can make casings, that is the purpose of UMAi Salumi. I believe there is a post on this forum that describes what you are asking, which is stuffing the meat into a natural casing and then sealing it into UMAi Dry.
quote Carnie" post=3530:
Am going to try a test with salami ,they do have cure #2 and bactoferm FRM-52, they are almost done fermenting, after that i'll put one in a drybag, Decided to put one of each in, Recipe is Salumi Diablo and Soppersata Roman Style from the book Salumi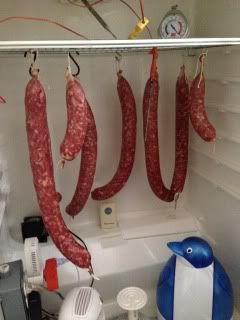 Stay Tuned
Let us know what your thoughts are.