February 20, 2011 at 2:51 am
#4531
Ron Pratt
Member
Doyle – me thinks you worry too much! I'm afraid if you continue to throw away 50% of your meat due to trimming after aging that you soon will say it's not worth the high cost and even the bother! I really wish you could have gone to some nice steak house where they served dry aged beef and experienced the wonderful taste first so you would have known what to expect. The way you have trimmed has eliminated much of the dry aging benefits and the further the steaks are into the center of the primal the more they will be the same as plain old grocery store steaks at a fraction of the price your trimming has caused.
A week ago I started a thread here about an end cap I called a "runt". I posted this picture of the "runt" which was an untrimmed cap end that I just knew would be WONDERFUL.
Since I enjoy the cooked untrimmed aged part even better cold than hot I have been snacking on it all this week and sorry to say I'm about done! Guess if it was going to kill me it would have by now – huh?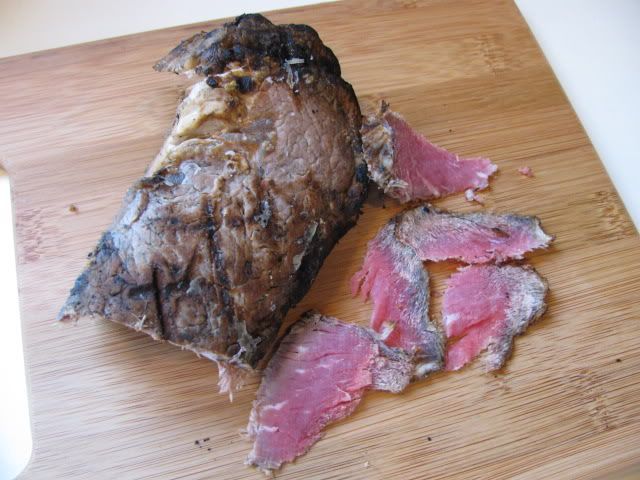 Let me ask one question – do you like good jerky – and I don't mean those "Slim Jims" things – but good quality beef jerky. Well, the texture and taste of the cold, cooked dry aged rind is far superior to jerky!
I doubt I will convince you to make a U-turn in the road, but if I can veer you a bit on the road until you have a dining guest or two who appreciates the taste of fine, dry aged beef then maybe you can turn your fearful trimmings into desirable take-home left overs! OTOH if all your friends seem to have already got you into a mindset that you have atomic waste in your refrigerator then what can I say!