March 25, 2013 at 7:03 am
#6857
bill
Member
Dry Age Wagyu for 15 days complete time to post some pictures!
Fresh out of the dry age bag. The meat seems to shrink more then the fat so to the touch the fat actually has a bumpy texture and the meat is stiffer but not hard to the touch.
Side by side a one piece is not aged on the right it does look noticably smaller slightly maybe 10-15% from shrinkage.
I created this piece to give to a friend to try.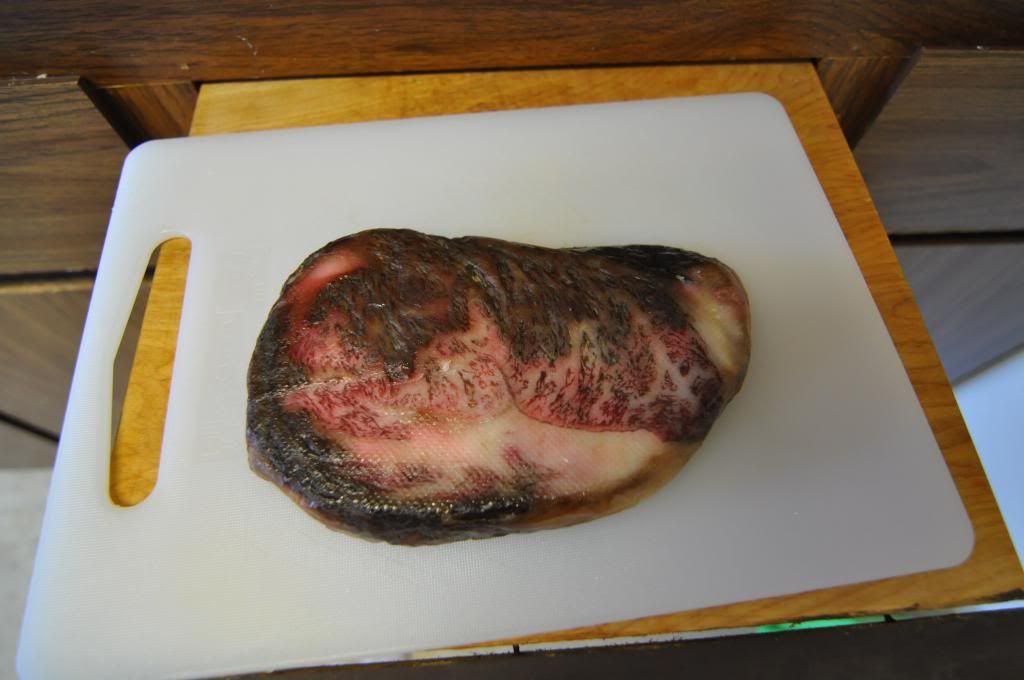 This is the piece I cooked today the end piece. Placing it in a vacuum bag for a day softens the rind.
Needed to level the piece off anyways so I shaved it off and cooked it and ate it first. These pieces had the most flavor of aged beef and was super tender and feel as if the beef bursts of juicyness when chewed on. I call it squishy beef (tastes better then it sounds)
This is the other side of that piece earlier
Seared almost 2 mins each side med high. Look at all that fat on the pan! Juicy Beefy Beef Juice!
and the results are a success!
You can taste the difference between aged and non-aged Wagyu even for just 15 days makes a whole lot of difference when it comes to the flavor. Tenderness not so much, not because it doesn't make a difference but because aged or not this beef is more than fork tender. I'd have to go as far as saying you don't need teeth to eat this kind of beef and if you have a chance to try this it should be on everyone's bucket list. As Ron said before just enjoying this piece alone would already have been satisfying already but having 20lbs of this stuff in two pieces aging one of them was a no brainer for me. Plus how many people can say they tried Japanese A5 Wagyu dry-aged!! With this experiment I can say at least 12 more people tried it along with me and I will say one thing that not everyone has the taste for dry-aged beef. Two people have said to me they prefer non-aged wagyu beef. Ohh well you can't win them all this is expected. I hope others can benefit from this shared knowledge so Happy Dry Bag Aging everyone.