November 14, 2010 at 7:16 pm
#4185
Ron Pratt
Member
RRP wrote:
quote :
This Saturday night I'm going to try yet another tweak to further enjoy my dry aged steaks. Based on data from the magazine
Cook's Illustrated
I intend to lightly coat my meat with salt for 3 hours and bagging them prior to the additional hour in the "hot tub". According to CI…,
"The salt draws juices to the surface of the meat. The juices became a concentrated brine that is reabsorbed into the meat, bringing out beefy flavors and masking livery ones."
Furthermore I intend to use Morton canning salt as it is finer and should dissolve far easier since the dry aged meat already has had about 20% reduction in moisture so my thinking is the canning salt will have a better chance of working. I will report my finding on Sunday.
Here's the two rib eyes weighting in at 17 oz. each that I had dry aged for 28 days a little over a year ago and had then frozen them using a Food Saver. As you can see these were very dry on the surface.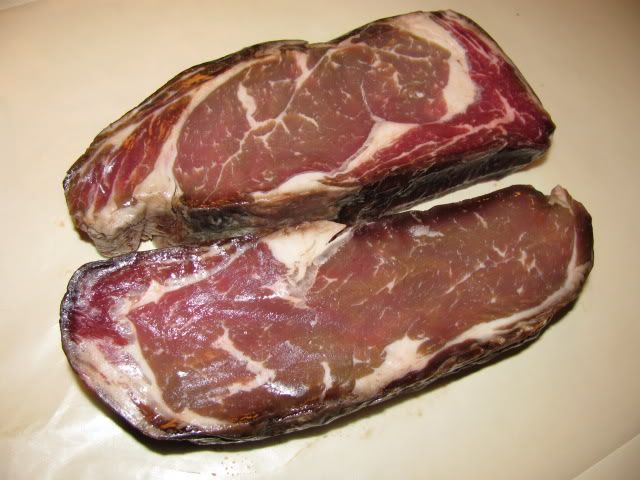 I then proceeded to dust them using Morton canning salt which is extremely fine almost like cornstarch. What surprised me was as soon as the salt landed on the meat the steaks started to glisten and there was no white coating at all! I dusted the sides, edges and ends and then placed each steak into a plastic bag, squeezed out the air and sealed with a twisty. At that point I returned them to the refrig for the 3 hour period.
Half way through at 90 minutes I examined the steaks and as promised they were wet and had beads of moisture galore, which you should be able to see.

After the 3 hours I began the hour long hot tub and noticed that also as predicted the moisture was mostly gone from being drawn back into the meat. This time I used a small Coleman "6-pack" chest and found that by using it complete with the lid I only needed to change the water once during the whole hour vs. my normal 4 times. Note even at the end of the hour the water was still 116°.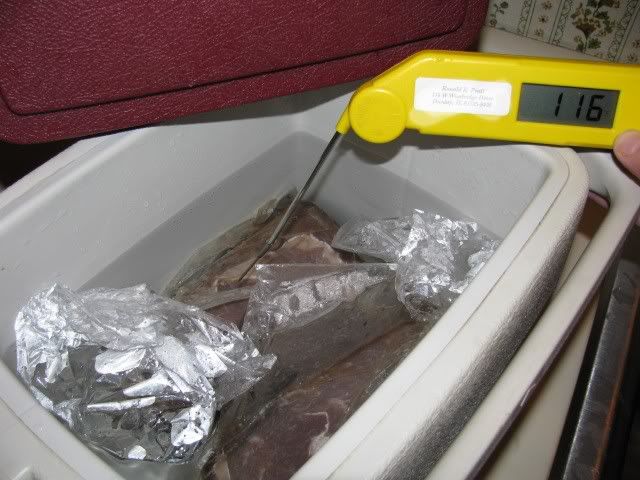 Then it was time to go on my BGE direct at 650° for a quick 3 minute sear. It was getting late and I would have preferred to get my temp up to more like 700 to 725, but so be it. For some unknown reason before I started the sear I hit the steaks well like I always do with some coarse kosher salt – something I regret now!
In short order it was show time and there was that look from the better half as if to ask "are we going to eat those or are you taking more pictures?" So this was my last picture!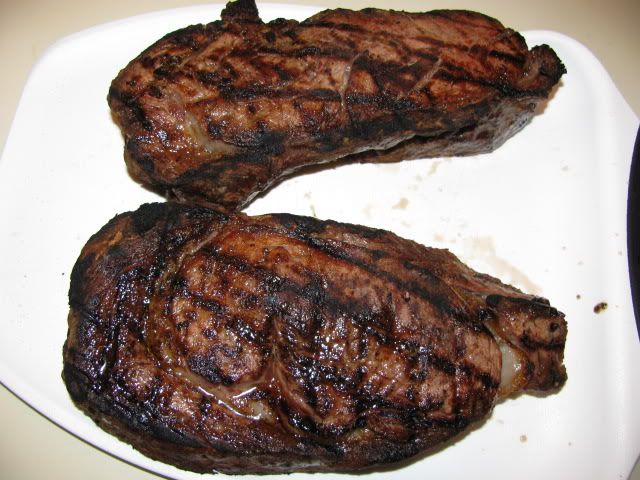 Results were a too salty, but I really blame the kosher I needlessly added before the cook. I'll definitely try the 3 hour salt method again. BTW those 28 day steaks were fork tender and oh so delicious! VIVA DrybagSteak!